The result of mixing a beloved mascot, a caffeine dependency, and a passion for circular product design.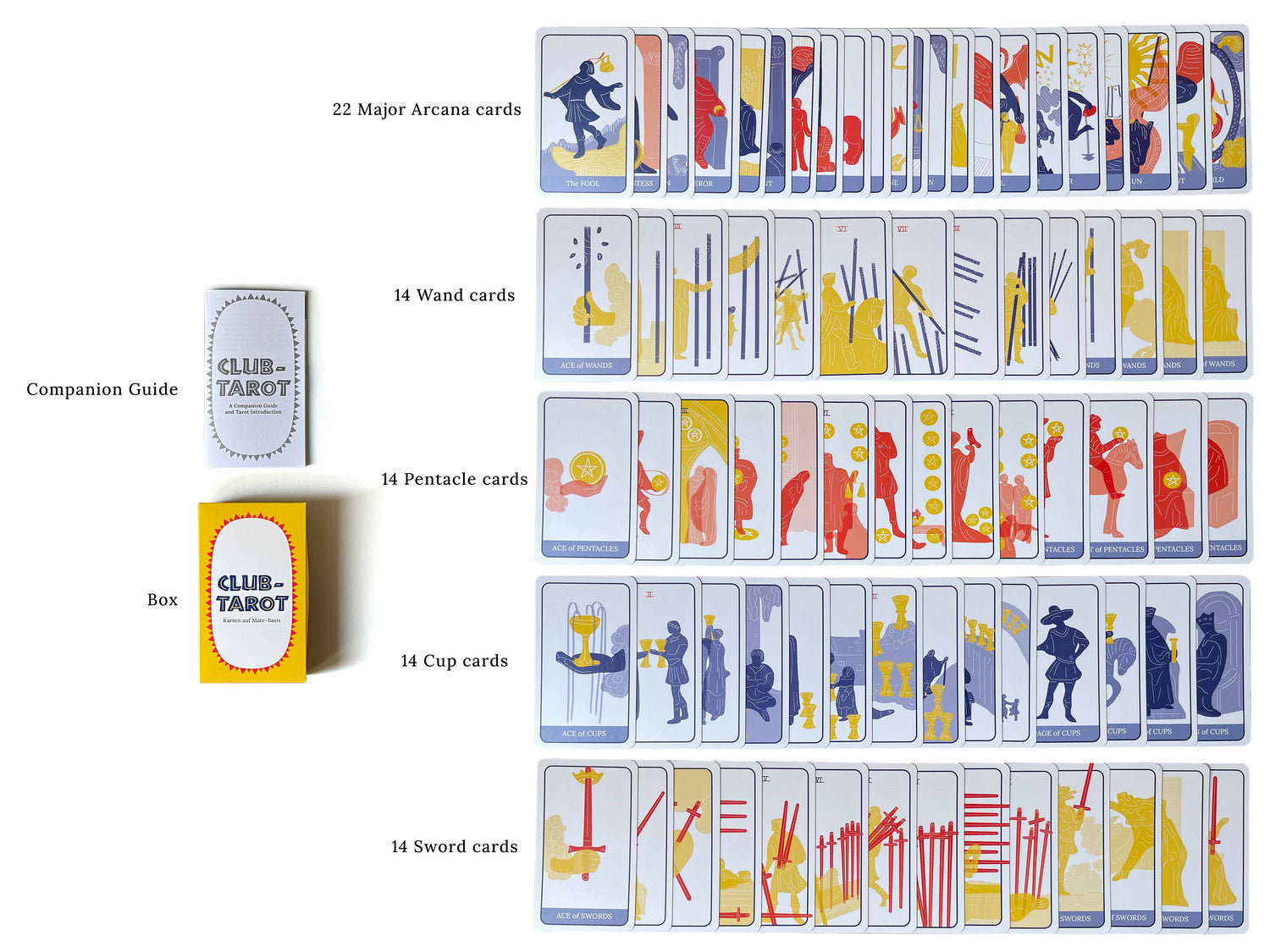 In the box:
78 Tarot Cards with an introduction to Tarot and card-by-card guide.
Collapsible content
Materials + Life Cycle

The cards, box, and booklet are made from FSC-certified paper and healthy, non-toxic inks that are completely and harmlessly compostable at the product's eventual end of life.

The booklet uses two small aluminum staples, which are 100% recyclable.

The decks ship in cardboard mailers.
Pollution footprint

We aim for a net positive impact from our product's production, transport, and consumption. 

About 0.90kg CO2 is emitted from making each deck. This includes production of the paper, plates, and inks, the printing itself, and the delivery from our supplier in Austria to our warehouse in Berlin. Our supplier offsets 0.99kg CO2 per deck via climate protection measures onsite and reforestation projects in the Global South.

You can read more about our footprint and production choices here.
Discounts

Discount codes can be applied on the checkout page.
Shipping + Delivery times

We ship via DHL GoGreen to Germany, Austria, Switzerland, France, the Netherlands, Belgium, and Luxembourg. Orders in the EU over €50 ship free.

We usually fulfil within one week.
Dimensions

Box: 127 x 76 x 32 mm
Cards: 70 x 120 mm
Good to know

Club Tarot is for ages 14+.
In the video above, I chatted with my friend Melinda Cange about Polar Embassy - a project I started to launch this cheeky and sustainable deck of Tarot cards.
The Club Tarot Story:
Christmas 2020

I illustrated a deck of Tarot cards for my best friend as a gift.

She thought they were pretty cool...

2021: Many bottles of mate later...

...who does an incredible job producing our decks.

2022: Launch!

Finally in stock and ready to go!